Its going to a brighter bolder year. Looking at some of the 2018  trends and styles.
Colors are back. Beige and white are out….. well not out but moved to the side a bit
Photo: Greg Riegler Photography
Grey is still  in but a warmer tone and  pairing with bolder colors such as camel, rust, tobacco, and brown-blacks
Blues and Greens and Warmer Greys Oh My….
2018 trends show that blues and Green of all shades will be in warming up what was a colder grey world.
Sage
Sage has now established itself as the new neutral and we don't have a problem with that at all. Calming and stylish, it totally can elevate any space.
We will contiune with the mix of metals  adding another pop of color for 2018
The modern Farmhouse style will continue to flourish in 2018 and spread to the bathroom.
When it comes to sink trends, the emphasis is on function. Generous, high-performance models with a single bowl contain splashes while simultaneously accommodating large pots and pans or other items that require handwashing.
Sinks  will be concrete, stone, copper and granite composite sinks in darker hues of gray, bronze or black.
Kitchen sinks  continue to add color with more composite sinks added to the mix.
"While we consider white kitchens beautiful, timeless, and classic, we predict they have reached the peak of popularity. In 2018, look out for darker, moodier, dramatic kitchens that will wow you with their sultry and saturated colors."
—Jean Liu
Brushed Nickel and Chrome are both still strong but other colors are coming up fast….
Brass/ Gold tones are in,  both in the kitchen and bath , Rose gold  and Black also has been growing in popularity in plumbing fixtures both in a gloss or a matt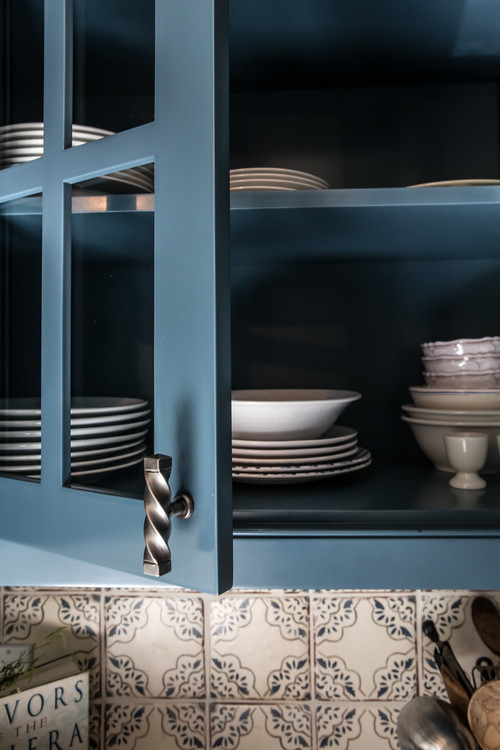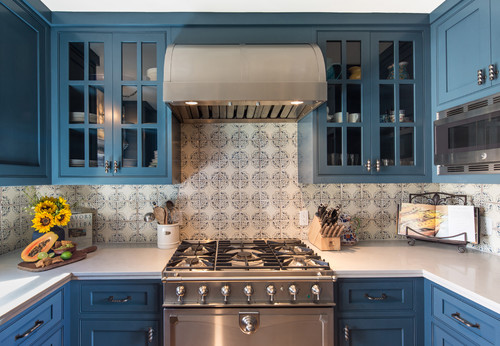 Hand-painted terracotta tile, a farmhouse sink, and blue painted cabinets accented with Top Knobs Normandy knobs and pulls complete the look.
Texture and Pattern
Plain-colored, boring tile is out.        
Tiles with  texture, lots of color, unique patterns, are taking over the tile world. Add some tile with a little personality in 2018.
Three-dimensional tiles come in organic waves as well as symmetrical patterns.